Advanced Tally-ERP Course Rs. 7,550 /- with GST
Duration : 3 Months Daily
This course includes the Tally Operator Course along with the 2 Volume Advanced courseware of Tally Champs, with which you get the Original 2 Volume TALLY Course Book & 1 Tally Trg CD. after completion of the course you get to appear for 2 Online Examinations, to get TALLY Certification, along with your name on their website
TALLY CHAMP -B-VOLUME 2 Kit Includes :
2 Volumes of Books

Tally Training CD

2 Online Exam

Student Name is Registered on the Tally Website
TALLY CHAMPS 2 VOLUME In-depth & Advance COURSE with GST is developed after a thorough research & study of the industry. By joining this course you will be able to determine to focus on career prospects available for you in the field of Business Accountancy.
After completion of the course you get the Original online TALLY Certification, along with the Tally operations certificate.
 Fundamentals of Accounting and Tally.ERP 9
Creating Masters in Tally.ERP 9
Voucher Entry and Generation of Reports
Tally Vault and Security Controls
Export, Import and Splitting of Data
 Connectivity & Printing Reports
FINANCIAL Accounting
 Creating A Company
Company Configuration
Setting up a New Company
Ledger / Creating Groups
Account Heads / Voucher Entry
 Payment / Receipt Voucher
Contra Entry
Purchase / Sales Register
Creating Cost Centres
Cost & Ratio Analysis
Creating Trial Balance
 Viewing Statement of Accounts
INVENTORY
 Features
Stock Groups
Stock Items
Physical Stock Voucher
Creating Units of Measure
 Rejections In & Out
Purchase & Sales Order
Multi Currency
Invoicing, Bill or Stock Wise
Debit / Credit Notes
Budgets & Controls
 Multiple Godowns
Advanced Accounting and Inventory in Tally.ERP 9
Job Costing and Job Order Processing
Installing & Activating Tally.ERP 9
Value Added Tax (VAT)
Central Sales Tax (CST)
Tax Deducted at Source, Service Tax
Profit & Loss Account
Balance Sheet
Bank Reconciliation
Interest Calculation
Printing of Accounts
 Bank & Cash Books
Display of Accounts
Purchase / Sales Register
Company Configuration
Company Controls
SERVICE TAX, TDS
 VAT CALCULATION
Rejection Notes
Sales Plan / Purchase Plan
Sales Order Processing
Purchase Order Processing
Printing of Accounts
 Maintaining Physical Stock
Display of Accounts
Inventory Reports & Statements
Interest Calculation
PRINT PREVIEW
 Work on LIVE PROJECTS
 ASSIGNMENTS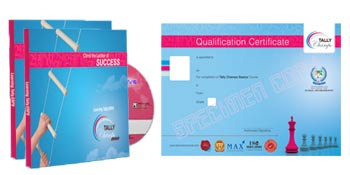 Other Courses
TALLY CHAMP -B-VOLUME 2 Kit Includes :
2 Volumes of Books

Tally Training CD

2 Online Exam

Student Name is Registered on the Tally Website
BATCH Timings
Morning: 
7:30-9am, 9-10am,
10-11am, 11-12pm
Afternoon: 
12-1pm, 1:30-3pm,
3-4pm, 4-5pm
Evening: 
5-6pm, 6-7pm,
7-8pm, 8-9pm
Saturday : 11-1pm, 1.30-4pm, 4-6pm, 6-8pm
Sunday : 9-11am, 11-1pm, 1.30-4pm
Corporate Training in Bulk – minimum 15+ students per batch – Call 9619626991 for Corporate Discount